This page does not require shockwave. It shows non-interactive screen shots from the activity.
To play the activity at www.learningbox.com/call911 you must have a browser with Shockwave. Shockwave is a free plug-in that enables interactive multimedia on the web, and is available for Mac and Windows.
For more information on the Shockwave plug-in please visit the Shockwave information page.
If you would like to use the activity, Download the free Shockwave Plug-in from Macromedia.
Then go to www.learningbox.com/call911
Screen Shots form Call 911:
The 911 Activity is designed to reinforce the emergency phone number. The activity shows a house through a window. The house starts smoking. The visitors must pick up the phone (by clicking and dragging the receiver) then push the numbers 911.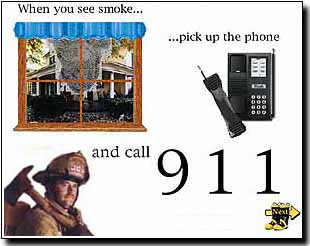 Introduction:
The introduction shows visitors how to use the activity.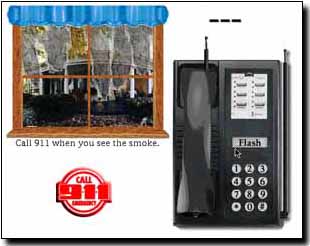 Smoke:
After a short while, wisps of smoke appear in a window.
The smoke builds to become more visible.
This is when the visitor must call 911.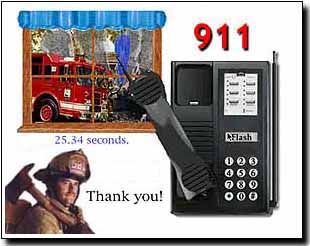 Thank You:
A fire truck arrives and puts out the fire.
A timer show how long it took the visitor to call 911 after the first wisp of smoke appears.

---
©2000 The Learning Box All rights reserved.